A screen magnifier us one of those tools that many of you don't use often or not at all. Windows provides it's own built in magnifier program, but it's pretty lame in comparison to many of the freebies out on the web.
I probably use a magnifier more now that my eyes are getting old, and when I do, I like to have plenty of options.
Magnifixer is my current favorite because it's easy to tweak with nearly a dozen different settings as shown below. It's one of the best free magnifiers I've found.
Tip: You can turn it into a portable version by simply copying the program folder onto a flash drive.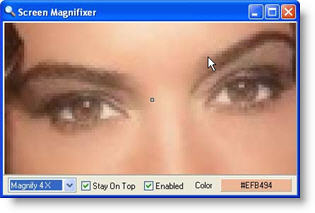 From the authors:
Magnifixer is a screen magnifier utility. You can place it anywhere on your screen, make it any size you want and select a zoom level. Magnifixer will always show the area of your screen where the mouse cursor resides.
- Up to 40x Magnification
- Place anywhere on your screen
- Dual monitor supported
- Smoothing for better readability
- Cursor tracking or fixed location view
- Stay-on-top window option
- Color Display (HTML or RGB mode)
- Most settings are saved and reused
- Very simple and intuitive interface
- Uninstall option
Website: http://www.blacksunsoftware.com/screenmagnifier.html